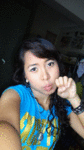 (Throw confetti in the air!!)
I may be getting old, but so is everyone else. hahhahah
I want to use this as an opportunity for thanking God for another year! He has showered so much Love, blessings, grace and favor over the past years especially during my 20th year. He is really bursting with love.
21 Things I'm thankful for and wish list:
1. I've finally step foot in 2 foreign countries (France and China) . A dream come true indeed!
2. I'm blessed with such fun friends that you can never do without.
5. My fun fun fun and down-to-earth relatives. You'll always have a place in my heart.
9. The many events I've attended to
12. Travel to the US, more countries in Europe, Egypt, South Korea, Japan, Malaysia, Singapore, Russia and all cold countries because I'm so sick in tired with hot and tropical climates.
13. Live in a different country each year and get a chance to go snowboarding or skiing. ahhhh winter wonderland! that's so magical
14. Work in a cruise ship
15. Have a healthy and a life filled with love and laughter. Live life to the fullest!
16. Have a baby girl and a well-matched partner in life. (yeah, cheesy I know! but that's what I want and there's nothing you can do about it)
17. Have a wonderful career and sponsor my parents a cruise. *weee*
18. Love God more and grow more as a Christian.
19. Out of the country escapade with friends/family.
20. Graduate from college. (please please please)
21. Seek God and to walk in His presence.
Look at what I got for my birthday given by my good friends.
A Tiffany & Co. Necklace!!!! Can you believe it that Ashley Ranises actually gave me this. So happy, I finally own a Tiffany jewelry.. oh my heart is filled with gladness!
Ashley also gave me a letter, some munchies and a book and my good friend Daisy also gave me a squishy round pillow. She told me she could be my pillow for me and all, so I can punch her freely when I'm mad and hug her tight until her eyes go out when I'm feeling happy and excited! hahhha..
Thank you so much for all the love-filled gifts guys, it sure made my day extra special. I really appreciate all your efforts and thoughts.